Bootstrap:Algebra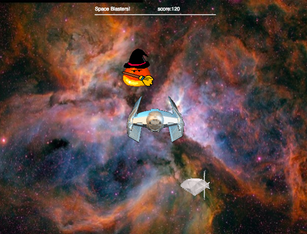 Bootstrap:Algebra (or "Bootstrap:1") applies mathematical concepts and rigorous programming principles to creating a simple videogame, and is aligned to
National and State Standards
for Mathematics, as well as the CSTA standards and K12CS frameworks. Students create a simple, 3-character game involving a player, a target and a danger. They design what each character looks like, and use algebraic concepts to detect collisions, handle keystrokes, and determine how they move and interact.
Click here for our upcoming trainings
We provide all of the our materials
free of charge
, to anyone who is interested in using our lesson plans or student workbooks.
Of course, there's more to a curriculum than software and lesson plans! We also provide a number of resources to educators, including standards alignment, an answer key for the programming exercises and forums where they can ask questions and share ideas.
Teacher-Only Resources - We also offer several teachers-only materials, including an answer key to the student workbook, a quick-start guide to making the final project, and pre- and post-tests for teachers who are participating in our research study. For access to these materials, please fill out the password request form. We'll get back to you soon with the necessary login information.

Support Forums [Announcements | Discussion] - Want to be kept up-to-date about Bootstrap events, workshops, and curricular changes? Want to ask a question or pose a lesson idea for other Bootstrap teachers? These forums are the place to do it.

Bootstrap by Emmanuel Schanzer, Emma Youndtsmith, Kathi Fisler, Shriram Krishnamurthi, Joe Politz and Ben Lerner is licensed under a
Creative Commons 4.0 Unported License
. Based on a work at
www.BootstrapWorld.org
. Permissions beyond the scope of this license may be available by contacting
schanzer@BootstrapWorld.org
.