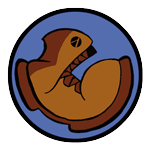 Overview
Students learn how to add built-in instructions/a splash screen to their game
Product Outcomes
Students add a splash screen to their game
Adding a Splash Screen
(Time 30 minutes)
Adding a Splash ScreenTimers are a key component in many video games: players may need to reach a certain objective before time runs out, or keep from losing a game for longer and longer periods of time to reach a high score. In this feature, we'll cover two possible uses of a timer in your game: adding a "splash screen" at the beginning to give instructions to the player, and adding a short animation when two characters collide.

Of course, a timer is a piece of data in our game that will be changing, meaning it should be added to our data structure. We'll be adding a timer to the completed

Moving Character

file from Unit 5, and you can follow along using the same file, or your own video game project.

Add a field called 'timer' to the data structure, represented by a Number. Then, go through your code and add that field to each constructor call in your code. Once complete, run your program to make sure there are no errors, then move on.

The next step is to find (or make!) the image you want displayed as your splash screen when the game begins. We've made a simple image of instructional text overlayed onto the background, and defined it using the name instructions.

Encourage students to get creative here: In addition to giving instructions to a user, they can also use their splash screen to provide a backstory for their game, include names and images of their characters, and of course, note who created the game!

As of now, our Moving Character file doeesn't have a next-state-tick function, but if we want our timer to increase or decrease, we'll have to add one. If you already have a next-state-tick function with the timer added to the State it produces, make it so the timer increases by 1 on every tick. Don't forget to add on-tick: next-state-tick to the reactor once you finish! Our next-state-tick function looks like this:

(Note that the position of the character doesn't change in next-state-tick. It only changes in response to keypresses, which is already handled in the next-state-key function.)

Now we have a timer added to our CharState structure, and it increases as the reactor runs. But how do we display our instructions screen based on the timer? The draw-state function handles how the game looks, so we'll have to add some code to this function. In our starting CharState, which we named middle, we had the timer start at 0: middle = char(320, 240, 0). Since we made the timer increase by 1 every clock tick, we'll display the instructions image as long as the timer is 100 or below.

By default, the computer's clock ticks 28 times each second, so the instructions screen will be up for a bit less than 4 seconds.

We'll need to change draw-state so that it becomes a piecewise function. If the given CharState's timer is less than or equal to 100, (the very beginning of the game) our splash screen should be displayed. Otherwise, the image of Sam the butterfly should be displayed at the correct position on the background, which is what the current code already does. To change draw-state, we add one new if: branch, and add the original code to the else: clause.

Have students explain the logic here: We only want the splash screen to appear at the very start of the game, when the timer is below a certain amount. All other times, we should see the game itself.

Click 'Run', and test out your new feature! You may want to increase or decrease the amount of time your splash screen is displayed, or make changes to the image itself.